House Cleaning in Acton, Massachusetts
Not Enough Time to Clean?
If cleaning your Acton home keeps sliding further down your "to do" list don't fret, just give Ramalho's Cleaning Service a call. You're busy working, running kids to practice and taking care of priorities. Your home doesn't have to suffer in the process. Ramalho's Cleaning Service has been cleaning Acton, Massachusetts homes and we'd love to take care of yours too! Whether you are looking for a one time deep cleaning just to get caught up, or regularly scheduled residential cleanings in Acton and surrounding areas, Ramalho's Cleaning Service is the right choice to give your home the level of freshness and cleanliness that you and your family deserve.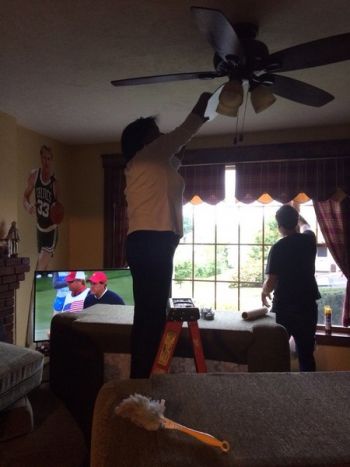 A Acton Cleaning Service to Fit Every Need
Ramalho's Cleaning Service offers the following types of home cleaning services in Acton:
House Cleaning
Vacation Home Cleaning
Rental Property Cleaning
Apartment and Condo Cleaning
Move in/Move Out Cleaning
Deep Cleanings (Spring, Fall, etc)
Regular Maintenance Cleanings
Party/Event Preparation and Clean Up
Office Cleaning
Ramalho's Cleaning Service will tailor your cleaning services to fit your unique cleaning needs. We would be happy to add your home to our route in Acton for weekly, biweekly or monthly house cleanings. Whether you need a quick tidy up for visiting guests or a deep spring cleaning to remove the staleness of winter, Ramalho's Cleaning Service does it all. Call us today to for a free in-home estimate.
Acton Cleaners You Can Trust
All of our cleaning technicians go through a rigorous screening process and are fully trained in the Ramalho's Cleaning Service cleaning process. With Ramalho's Cleaning Service cleaners in your home, you can rest assured that your valuables and your privacy will be respected. You can count on us to do the job with integrity. We'll arrive on time to clean your Acton home and will stay until it is completed to your specifications. We clean under, around and behind items, and then carefully replace them. And when we leave, all that is left behind is a sparkling, fresh and clean Acton home!
---
Call for FREE House Cleaning Quote
---
WHAT CUSTOMERS ARE SAYING:
5★★★★★ - "Ramalhos cleaned our house for us prior to our tenants moving in. From the beginning, I spoke with Milton who was friendly and helpful. He discussed various services with me and helped me figure out what we needed. Though I wasn't there to meet them, my husband was very pleased with how they worked. They cleaned out our house very well - not an easy task as two adults, one baby, two dogs, and three cats had spent the last five years there. We would happily hire them again."

Emily Finn

2013-07-05

5★★★★★ - "Milton and his family were at our home today for a deep cleaning and window cleaning. I can't begin to tell you what an amazing job they did! Absolutely everything and I mean everything is sparkling clean, they even cleaned the inside of our bathroom trash cans! The tile floors and baseboards including the dust collecting baseboard heaters are shiny white without one speck of dust. Milton and his family are not only lovely people but they are extremely hard working and you can see the pride they take in the job they do. The genuinely care about the work and the people they are working for. If I could give them 10 stars I would! They deserve it. Milton is very responsive, and has great communications with the people he works for. He accommodated my timeframe, explained the work that would be done before the job then explained the work after they finished which was above and beyond expectations. His pricing is extremely reasonable, and he is upfront about everthing. His lovely family took great care of all of my belongings and cleaned the furniture absolutely spotless. Our home was a heavy job and it looks absolutely amazing! Every review I read was spot on and I couldn't be happier! I am hiring Milton again to come back and give the basement and garage a good cleaning and will be hiring them again to clean my home in the future. I recommended him to my neighbor who is a busy mother of 3, and I can honestly say that you will not go wrong in Milton and his family's capable and caring hands. Email him I promise you won't regret it. This is the first review I have ever written, but had to write one because I can't thank him enough!"

Mary M., House Cleaning in Framingham, MA

2020-04-24

5★★★★★ - "Wonderful wonderful experience with Milton and his lovely family. Extremely friendly, thorough and couldn't be more pleased. Would highly recommend!"

Lauren B., House Cleaning in Weston, MA

2020-03-23

5★★★★★ - "Milton and his team did good job on cleaning our house. Will definitely work with them again!"

Xia F., House Cleaning in Cambridge, MA

2020-03-23

5★★★★★ - "Super happy with Milton and his crew... they paid attention to every detail in the house and did a great job
He is very nice and reliable, they showed up on time and asked a couple times along the way if we were satisfied with what had been done so far.
Outstanding service for a great price having me scheduling for monthly cleaning
Highly recommended!"

Amin A., House Cleaning in Boston, MA

2020-02-20

5★★★★★ - "I had the pleasure to meet Milton the owner to go over what is needed to be clean for the first time. He was very polite and professional. He was able to schedule me in last minute and I was thankful for that because Thanksgiving will be in a few days and a spotless house is a must.
Milton and his cleaning employees Dee and Elana was right on time and they went right into business. When I got home they were just finishing up and the house was beautiful and clean.
They even cleaned rooms that wasn't in the initial quote. I hardly ever write about a company about the service. Ramalho's Cleaning Service was an exceptional and my husband and I will be using them again to clean our home every two weeks. I would highly recommend this company and you as well will be very please.
Thank you and good luck!
Cyndi"

Cyndi W., House Cleaning in Framingham, MA

2020-01-22

5★★★★★ - "Excellent service. The cleaning service was very professional and satisfactory. I strongly recommend Ramalho's cleaning service and I myself will definitely use their service again."

Hein H., House Cleaning in Worcester, MA

2020-01-22

5★★★★★ - "Ramalho's Cleaning Service does a great job! We called them last month to come clean our empty house before we moved in. We were able to schedule a time for them to come by with little notice. They were very thorough! The oven in particular was in pretty bad shape before they came, and now it looks spotless! You can now actually tell that it's purple on the inside!
We had them come back today and again, great service and very fair price. We've now scheduled them to come every two weeks. Give them a chance, you won't be disappointed!"

Jannifer J., Move In and Move Out Cleaning in Framingham, MA

2020-04-24

5★★★★★ - "My husband and I hired Ramalho's Cleaning Service to clean our new home before we moved in. Milton responded to my inquiry quickly and was able to fit us in within the next few days. He and his wife showed up perfectly on time and were so lovely to work with! In three hours, the house was sparkling. I will absolutely hire them again in the future."

Erin G., Move In and Move Out Cleaning in Boston, MA

2020-03-23

5★★★★★ - "The team did a stellar job on a deep clean of our new house before we moved in. The windows went from filthy to sparkling clean. Plan to use them on a monthly basis going forward."

Sam R., Deep Cleaning Services in Cambridge, MA

2020-03-23

5★★★★★ - "Milton and Marlene are excellent! We hired Ramalho's Cleaning to clean our townhouse as part of a move out. Due to moving, a water heater break, and general sloppiness.... it was probably a dirtier job than expected. That being said, his pricing was beyond reasonable and they did an EXCELLENT job in a pretty short amount of time. I HIGHLY recommend Ramalho's cleaning. We've moved further away from his home base, and if we decide on regular cleaning services we really hope he may extend his area so we can continue with his services.
TLDR: excellent price, great job, you will not go wrong with Ramalho's!"

Jessica P., Move In and Move Out Cleaning in Norwood, MA

2020-02-20

5★★★★★ - "We are very happy with the services. Team spent long enough time to leave our place clean. Attention to small details was paid. We will definitely use their services again! Thank you!"

Neha M., Commercial Cleaning in Boston, MA

2020-02-20

5★★★★★ - "I used Ramalho's Cleaning Service for a gift for my friend. She is a new Mom, so I thought she could use a little help at home! Milton was friendly and very easy to work with. He is very responsive to email, extremely straightforward and honest with pricing, and it was very easy for me to coordinate an appointment, even though I live in a different time zone! Best of all, my friend LOVED the service. She said they were extremely thorough and professional, and her home is sparkling clean. Highly recommend this service! Thanks Ramalho!!"

YM C, Cleaning Service in Framingham, MA

2020-02-20

5★★★★★ - "Milton Ramalho went above and beyond for us, when we hired his company to clean my childhood home. It was being listed for sale after 52 years. While not updated, it was so sparkling clean that the agent said it showed beautifully. She even asked me what company we used. Meticulous attention to detail. Friendly, nice, and came as scheduled - despite 1.5' of snow falling! I applaud people that care about what they do, and do it very well. That's a perfect description of Ramalho's Cleaning Service."

Patty B., Deep Cleaning Services in Bedford, MA

2020-01-22

5★★★★★ - "I would definitely recommend the Ramalho team. They have been cleaning my home for over 12 years and have been doing a great job consistently with a cheerful and industrious attitude."

House Cleaning in Lincoln, MA

2013-02-07

5★★★★★ - "I was with great pleasure that I recommend Milton Ramalho and his wife to clean your home!! We have had Milton and his wife for several years. They are professional. They are reliable. They are wonderful cleaners. It is a pleasure to come home on the day that they have cleaned."

The Brendemuehl Family, House Cleaning in Natick, MA

2012-12-18

5★★★★★ - "They came on time and they were through. They are also friendly!"

One time House Cleaning in Westborough, MA

2012-08-06

5★★★★★ - "They provided heavy cleaning services and did an excellent job. They arrived as scheduled and were very pleasant. I will be setting a schedule for monthly cleaning services and would not hesitate to recommend them to anyone."

Deep Cleaning in Walpole, MA

2012-08-06

5★★★★★ - "Great - recommend them highly!"

Maid Service in Brighton, MA

2012-08-06

5★★★★★ - "Very dependable, trustworthy, do good work & I wouldn't hesitate to recommend them to anyone."

Maid Service

2012-08-06
---
Call for FREE House Cleaning Quote
---